All the best BMW performance
E30 STRUTBARBARIAN
PRODUCT UPDATES!
NOW COMPATIBLE WITH 318i and 318iS models,
clears fuse box on "e" models,
provides bracket for cruise control.
Our very popular structural strut bar for E30 models has been updated.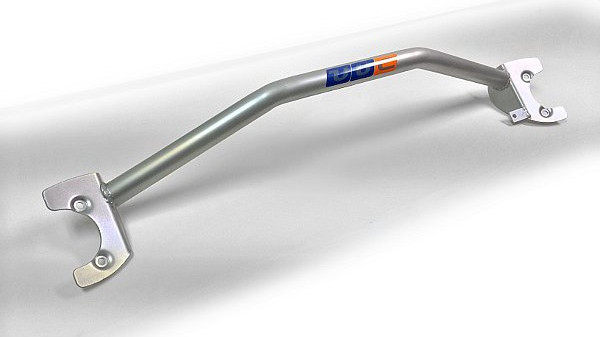 [ CLICK HERE ]
for more pictures and ordering info.
Several features make the UUC Motorwerks Barbarian strut tower brace unique:
The StrutBarbarian is available for these 1984-1992 E30 3-series 6-cylinder models:
325i
325iS
325
325e
325eS
318i
318iS
NOT for 325iX
Steel alloy tubular bar construction and laser-cut end plates for very important reasons:

a) Strength: the StrutBarbarian bar section is truly a structural reinforcement for the shock tower section of the chassis.
b) Light weight: the entire StrutBarbarian weighs approximately 5.0lbs (compare to other bars upwards of 10lbs.+)

The Barbarian uses no pivots or heim joints. To resist bending and torsion, those design elements are avoided.

Open top design allows access to adjustable suspension components.

Precision construction. In order to accurately produce a bar with very tight tolerances, by using computer numerically controlled (CNC) laser cutting and manufacturing techniques, we're assured that the bar fits perfectly every time.

Quality materials. The entire assembly is constructed in the USA of premium tubular steel alloy for continuous high-performance service without fear of surface or material degradation over time. All parts are powder coated for appearance.

DESIGN UPDATE #1: clears fuse box on "e" models.

DESIGN UPDATE #2: has bracket for cruise control cable (street cars) or can be used for E30 racecar fire system spray nozzle mounting.

DESIGN UPDATE #3: fits 318 models.


100% MADE IN USA

You are assured that this is the best possible product at any price, at any cost. By using massive overkill engineering, we have ensured that the StrutBarbarian left nothing to compromise.